SPECIFICATIONS
Due to the proprietary nature of the services CAD Graphics, Inc. provides, information regarding exact brand names and part numbers must be kept confidential. Please inquire regarding the purchase of the intellectual data to incorporate this process into your business.

THE PROCESS
Artwork is drawn up on a custom CAD workstation, and then printed out to a high-resolution color printer. The base film is then laminated under .5-mil polyester film. Next, the artwork is cut to size and affixed to an existing dial or instrument face. Holes and features are cut out and the dial is ready for installation.

BASE FILM
White finished polyester film. Test methods performed in conformance with ASTM-D882, ASTN-D1003, ASTM-D1003, and ASTM-D1505

INKS
I use a resin-based ink that is considered archival. The inks are also fade, water and smear-proof. This special water-free, pigment dry ink forms a 4-layer coating of thin film that is 3 microns in thickness. The resin is waterproof and the pigment is fade-proof. The special resin dry ink fuses to the print media.

Lamination
I use film that is a 2-ply polyester product, which consists of over-laminate film and adhesive which is dry to the touch. The over-laminate layer of film is particularly suited to any end application, which requires good contact, clarity and durability. General characteristics are excellent clarity, outstanding toughness, exceptional strength, stress/crack resistance, good flexibility and chemical resistance. The adhesive layer relies on heat activation during the lamination process. When heated, the adhesive melts to a "tacky" condition, where it is married to the printed sheet under extreme pressure. When cooled to a solid again, the adhesive provides a high strength chemical bond.

Specifications on Laminate:
Solubility in Water: Insoluble
Incompatibility: Avoid contact with strong acids and bases. May react violently with flourine
Melting Range: 203-500 deg. F (95-260 deg. C)
Auto ignition Temp: 500 deg. F (260 deg. C)

Hazardous Decomposition Products:
At temperatures above 570 deg. F (300 deg. C), decomposition products include carbon monoxide, carbon dioxide, acetaldehyde and acrolein.
CAD Graphics, Inc. 800-920-DIAL (3425)

Since 1991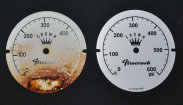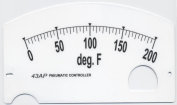 Custom Instrument Dial Conversions
c Copyright 2017 CAD Graphics, Inc.