CAD/Graphics, Inc. is dedicated to servicing manufacturers, distributors and
end users of industrial pressure gauges, thermometers, controls and various
other types of measurement instrumentation.


CAD/Graphics, Inc. was established in 1991 by a technician with now almost 40 years experience in the industrial instrument field that recognized the need for quick delivery, low pricing, and high quality service and products.


Services include converting a customer's existing instrument dial to visually
depict exactly whatever message is to be conveyed on the dial face.


The graduations, arcs, numbering, lettering, and logos are drafted on a CAD
(computer-aided design) system and then printed onto high quality film.


The film is then laminated directly onto the existing dial face. All finished dials
are fade resistant, glycerin and silicone submersible.
CAD Graphics, Inc. 800-920-DIAL (3425)

Since 1991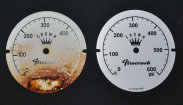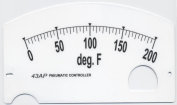 Custom Instrument Dial Conversions
c Copyright 2021 CAD Graphics, Inc.